Our Websites:
Top10TVBoxes.com: Best TV Boxes Review, Coupon Code, etc.
Top10XiaomiGadgets.com: Best Xiaomi Gadgets with Discounts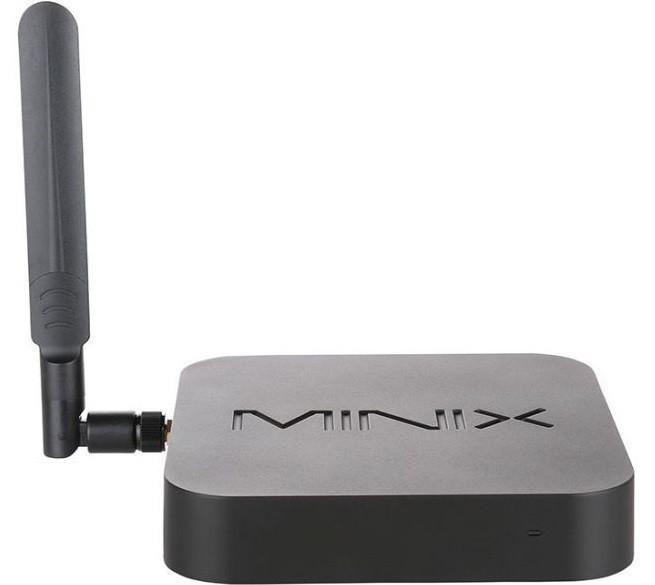 Minix NEO Z83-4 posiada obudowę wykonaną z matowego tworzywa w czarnym kolorze. Na panelu czołowym znajduje się dioda LED wskazująca pracę urządzenia, a klasyczny przycisk włącznika, trzy złącza USB w standardzie 2.0, jedno USB 3.0 oraz gniazdo na karty microSD trafiły na boczną ściankę. W testach urządzenie obsłużyło kartę o pojemności 128 GB. Porty USB można wykorzystać do podłączenia klawiatury i myszy bezprzewodowej, dodatkowej pamięci zewnętrznej, dysku twardego lub – przykładowo – przetwornika audio. Z tyłu urządzenia umieszczono m.in. złącze audio 3,5mm stereo Mini Jack, do obsługi słuchawek lub współpracy z zewnętrznym zestawem audio, gdy monitor nie obsługuje dźwięku z przewodu HDMI. Za pomocą złącza HDMI, które także znalazło się na tylnym panelu, można podłączyć NEO Z83-4 do telewizora, monitora lub rzutnika. Urządzenie obsługuje rozdzielczość 4K oraz filmy w wersji 3D. Dodatkowo, port Mini DisplayPort rozszerzy wyświetlanie obrazu na drugim monitorze/telewizorze lub pozwoli na klonowanie pulpitu. Oba złącza wideo obsługują rozdzielczość do 4K@30Hz. Do dyspozycji użytkownika oddano także standardowe gniazdo sieci LAN Gigabit Ethernet oraz regulowaną dwuzakresową antenę WiFi z obsługą standardu WiFi 802.11ac. Sercem odtwarzacza jest 64-bitowy procesor Intel Atom Cherry Trail Z8300 pracujący w układzie czterech rdzeni ze zintegrowanym układem graficznym Intel HD oraz częstotliwością taktowania od 1,44 GHz do 1,92 GHz. Standardowo NEO Z83-4 posiada 4 GB wbudowanej pamięci RAM DDR3L. System uruchamia się w kilkanaście sekund od włączenia, tak samo szybko reaguje przy wybudzeniu z trybu uśpienia. Do sterowania urządzeniem zalecana jest klawiatura bezprzewodowa z funkcją pada lub mysz żyroskopowa, taka jak modele Deluxe lub MGP-811. NEO Z83-4 posiada wbudowaną pamięć wewnętrzną 32 GB eMMC w wersji 5.0, z możliwością zainstalowania kart microSD oraz dysków zewnętrznych poprzez port USB. Opcje komunikacji, oprócz złącza Ethernet i obsługi WiFi, uzupełnia zainstalowany w urządzeniu kontroler Bluetooth 4.2.
Czytaj więcej na: http://www.wirtualnemedia.pl/artykul/minix-neo-z83-4-nowy-mini-pc-z-windowsem-10-i-kodi
Best Mini PC Collections
A mini PC takes up less amount of space compared to a typical desktop and they look much tidier. They are easier to move around too. Let our experts find you the best mini PC or tablet for home use.Check Our Editors' Choices 2018.
NO. 1

Teclast Master T8 8-inch Tablet PC Fingerprint Recognition
NO. 2


ACEPC AK1 Mini PC, Amazon Best-seller, More people's choice.

NO. 3